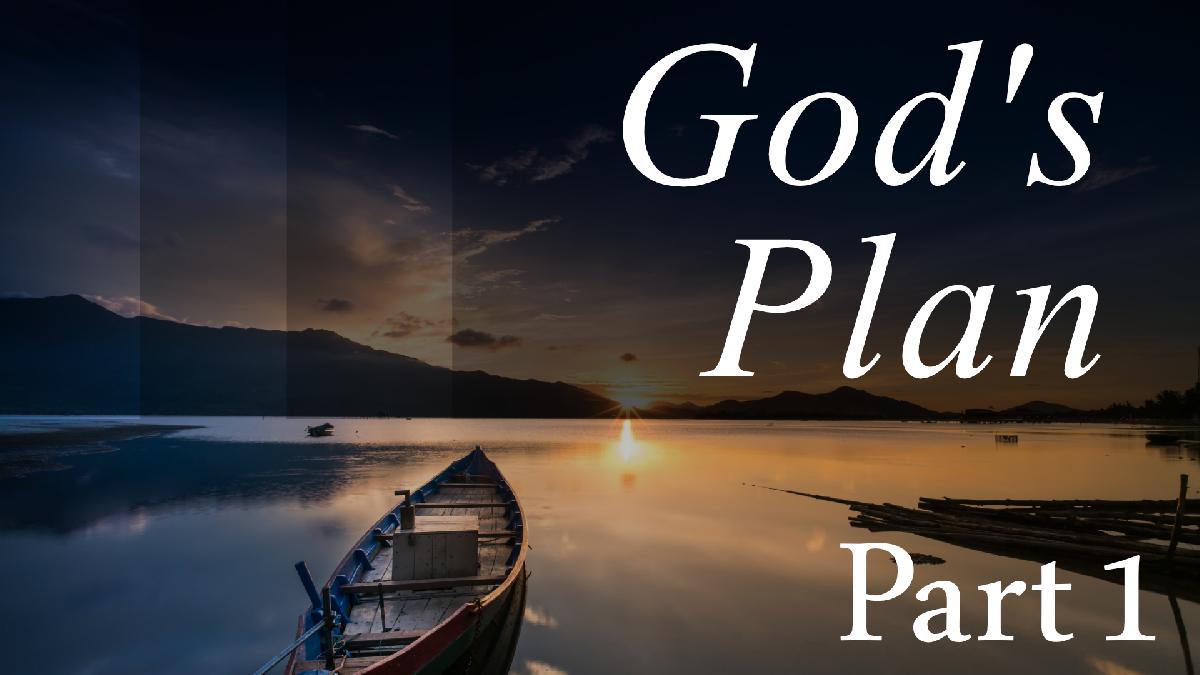 God's Plan - Commencement

Return To Main Page

(By Pastor Larry Burkholder)

Jeremiah 10:12 ''He hath made the earth by his power, he hath established the world by his wisdom, and hath stretched out the heavens by his discretion."

In His word, God tells us all we need to know about Himself, ourselves, and the universe in which we live.  The word of God also tells us "the storyline revealing God's intentions and purposes for creation." (Gary D. Freel)  He has told us how it all began: by His very Word!  He commanded the very cosmos, earth was formed, and He filled our planet with His creation by the power of His word.  Other texts such as Genesis 2 tells us of His declarative acts of creation such as Psalms 8:3: "When I consider the heavens, the work of thy fingers, the moon and stars, which thou hast ordained."  And in Psalm 33;6 we read, "By the word of the Lord were the heavens made; and all the host of them by the breath of his mouth."  John 1:3 tells us, "All things were made by him; and without him was not anything made that was made."  In Colossians 1:16 we read, "For by him were all things created, that are in heaven, and that are in the earth, visible and invisible, whether they be thrones, or dominions, or principalities, or powers: all things were created by him, and for him:"  Then in the last book of the word of God we read: ''Thou art worthy, O Lord, to receive glory and honour and power: for thou hast created all things, and for thy pleasure they are and were created." (Revelation 4:11)

To believe it is God who commenced everything in the world is vital.  Evolutionists have assaulted not just the Bible but also Common sense and rational thinking.  It is imperative that we firmly stand on, stand for, the infallible inerrant, God' breathed revelation written for us.  2 Timothy 3:16 reads, "All scripture is given by inspiration of God, and is profitable for doctrine, for reproof, for correction, for instruction in righteousness."

Having believed the word of God for the redemption of our souls, we can most certainly believe its record of life's origins!

"He (my emphasis) hath made the earth by his power, he hath established the world by his wisdom, and hath stretched out the heavens by his direction." (Jeremiah 10:12)

Last, but not least, we read Jeremiah 10:13 which reimburse with more demonstration His Word's power and its effectiveness, "When he uttereth his voice, there is a multitude of waters in the heaven, and he causeth the vapours to ascend from the ends of the earth; he maketh lightnings with rain, and bringeth forth the wind out of his treasures."

Now go back with me and let's read Jeremiah 10:6 where we find: "Forasmuch as there is none like unto thee, O Lord; thou art great, and thy name is great in might.'"

So how is it we find so many people, Christians included, stressed out over the circumstances of our country, our families, and about any thing that has to do with every day life?

"By contrast, the living God is great. Jeremiah declares, there is none like thee.  The wise men of the nations are brutish (stupid) and foolish.  God's majesty is exalted.  He is the King of nations.  He is the true god ... the living God, and the everlasting king.  He is the Lord of hosts." (Liberty Bible Commentary)

So, "Why worry, when you can pray, trust Jesus, He will be your stay.  Don't be a doubting Thomas, rest fully on His promise, why worry, worry, worry, worry, when you can pray?"


Return To Main Page
Faith Independent Baptist Church of Frostburg, Maryland
301 Shaw Street, Frostburg, Maryland 21532
Copyright &copy 2023 ChurchTrac Software, Inc.